Using proven, industry-standard equipment, our innovative designers and engineers select from the best available tools to build systems that correspond to your budget, volume requirements, and life of the program. Leverage our vast automated assembly experience to your advantage.
PARTNER WITH ALADDIN ENGINEERING & MANUFACTURING
FOR AUTOMATED ASSEMBLY SOLUTIONS
Semi- and Fully Automated Assembly of Multiple Components
Vision Systems to Inspect and Verify Assembled Components
Vision-Guided Assembly
Flexible Automation
Robotic Integration
Assembly Process Improvement
Assembly Process Verification and Control
Laser Welding
Weld Fixtures
Multi-Station Pick-n-Place
Fixtured Conveyors
Powered and Free Palletized Conveyor Systems
Rotary Index Dial Tables
High-Speed Parts Feeding and Loading
Material Handling
Walking Beam Transfer Systems
Automatic Fastening Systems
Automatic Riveting
Adhesive and Resin Dispensing
Induction Heating
Gauging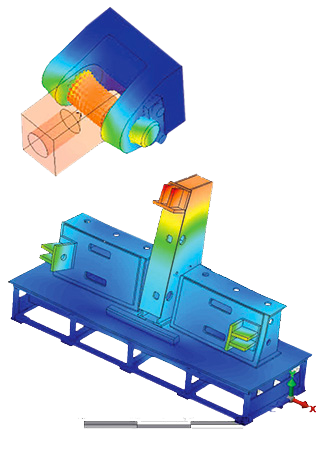 SIMULATION TOOLS – FEA SOFTWARE
Aladdin's design team uses finite element analysis (FEA) software. With this simulation software tool, we can optimize our designs and validate the component structure before we make a single chip. We can provide you with a documented analysis of your machine before it's even built.
A RICH HISTORY OF INNOVATION AND RESULTS
At Aladdin Engineering & Manufacturing, we thrive on the most challenging automated assembly projects. Since our early company roots in the 1950s, we have provided custom, semi-automated, and fully automated assembly machines and systems.
We are known for developing robust turnkey systems that leverage off-the-shelf technologies for mechanical sub-assemblies and components. Our engineering team develops customized assembly processes and specifications geared to meet or exceed your manufacturing requirements.
INDUSTRIES SERVED
Automotive
Agricultural
Motorcycle
Small Engine Manufacturing
Electric Motor Manufacturing
Electric Tool Manufacturing
Hydraulic Industrial Tool Manufacturing
Lock Manufacturing
Water Processing Equipment
Transformer Manufacturing
High-Speed Picking and Placing